Top 10 Must-Visit UK Destinations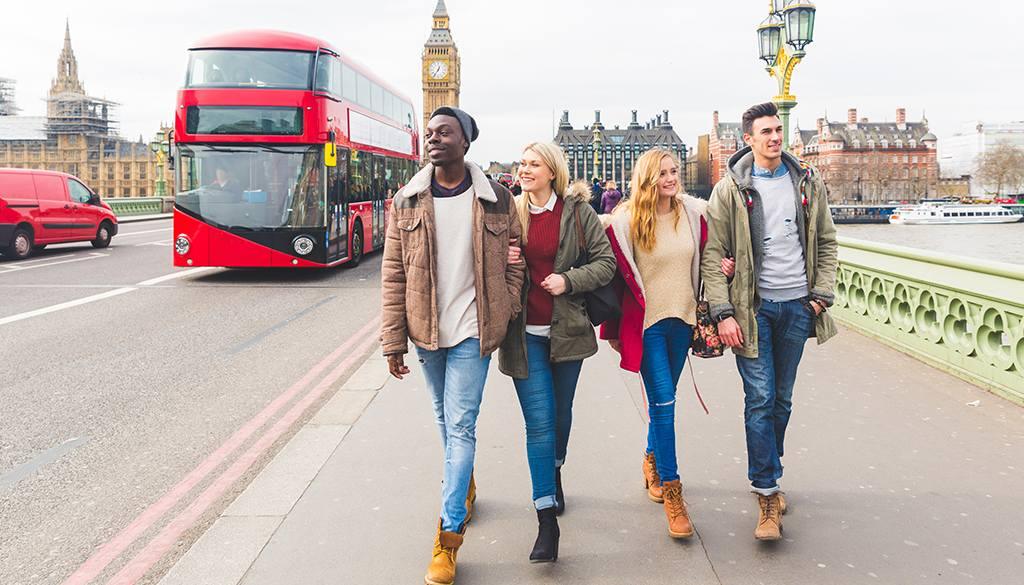 Contemplating a family getaway in the United Kingdom? You're in for an adventure! The UK is a tapestry of varied locales, each promising distinct experiences. But have you considered your luggage? This is where Tach Luggage steps in. Crafted with family needs in mind, this luggage is your ideal travel ally. Let's dive into some UK destinations where Tach Luggage can enhance your travel experience.
1. London
London is a city that offers an array of activities for families. Whether you're a history buff, a science enthusiast, or an art aficionado, London has something for everyone. The city is home to iconic landmarks like Buckingham Palace and the Tower Bridge, but it also boasts interactive venues like the British Museum and the Tate Modern. Add unique neighborhoods like Shoreditch and Covent Garden to the mix, and you've got a city that's a sensory feast. Moving through London's winding streets and bustling public transport becomes a breeze with the Tach Family Set. Designed for easy maneuverability, it's the perfect companion for your London escapade.
What's in London for American Kids?
A ride on the London Eye or a captivating afternoon at the Harry Potter Studio Tour will keep your kids engaged.
2. Scottish Highlands
The Scottish Highlands are not merely a picturesque retreat; they're a haven for families with a love for the great outdoors. Imagine the delight of spotting red deer in their natural setting or the awe of witnessing golden eagles in flight. The Highlands also offer the tranquility of scenic routes, notably the renowned North Coast 500. Designed for rugged terrains, Tach Luggage ensures your hiking boots, cameras, and other essentials are safeguarded.
Why should American families head to the Highlands?
It's a living history lesson. Castles like Eilean Donan and Urquhart offer not just panoramic vistas but also serve as educational epicenters where your kids can delve into Scotland's storied past.
3. Cornwall
Cornwall is a multifaceted gem that transcends its beachy reputation. The Eden Project's biodomes are a testament to human ingenuity, while the Lost Gardens of Heligan and the quaint village of St. Ives offer exploration. A Tach suitcase comes in handy with its compartments designed for practicality, allowing you to effortlessly separate wet beachwear from dry clothes. Plus, the Family Set feature lets you link multiple suitcases, so you can stroll along Cornwall's scenic paths hands-free.
What can kids do in Cornwall?
Surfing lessons for the adventurous, rock pooling for the younger ones, and pirate-themed boat trips for the whole family.
4. Lake District
The Lake District is heaven for families who relish fresh air and open spaces. Whether it's a boat tour on Lake Windermere or a visit to Beatrix Potter's abode, the Lake District is a blend of fun and learning. Tach Luggage ensures you can savor the Lake District's offerings while keeping tabs on your family and essentials.
Unique Lake District locations
Villages like Grasmere and Keswick offer their own brand of charm, from Grasmere's renowned gingerbread to Keswick's pencil shrine.

What are some unique spots in the Lake District? Villages like Grasmere and Keswick offer their own unique attractions, such as Grasmere's famous gingerbread and Keswick's pencil museum. With Tach Luggage, you are sure to enjoy Bath's luxuries while easily keeping track of your family and belongings.
Why Tach Luggage is a Must-Have for American Families Traveling for Vacation
Before we set off on our exploration, let's dive into why Tach Luggage is indispensable for American families heading to the UK. One standout feature is its innovative linking system, which allows you to connect multiple pieces of luggage. This leaves a hand free for holding your child, answering that crucial business call, or capturing the perfect photo. It's not just luggage; it's the travel solution you didn't realize you needed.

5. Bath
Bath is not just another city; it's a melding of history and modernity that offers a singular family experience. From the Roman Baths to the city's Georgian facades, every stroll feels like a journey through time. Tach Luggage's compartments accommodate everything from souvenirs to a chic ensemble for a night at the Thermae Bath Spa.

Modern Luxuries in Bath
High-end boutiques and gourmet eateries are aplenty. Consider a River Avon cruise or a Bath Skyline saunter for a different city angle.
6. Edinburgh
Edinburgh is a city steeped in culture, making it a prime destination for families with a flair for the arts. Home to the iconic Edinburgh Festival Fringe and the Royal Edinburgh Military Tattoo, it's a city that promises a rich cultural tapestry. A Tach family set suitcase has a roomy design that ensures you can stow everything, all organized neatly.
What's the cultural takeaway for kids in Edinburgh?
Edinburgh offers a rich tapestry of arts and culture that can inspire young minds. From interactive exhibits at the National Museum of Scotland to children's theater at the Fringe, the city is an educational playground for budding artists and historians.
7. York
York is akin to a living museum, where every cobblestone and ancient wall whispers tales of yesteryears. The city is a repository of historical gems, including the majestic York Minster, one of Northern Europe's grandest cathedrals. For an immersive experience, the Jorvik Viking Centre offers a tactile voyage through Viking lore, complete with sensory delights. Tach Luggage's adaptable compartments and linking feature revolutionize packing. Whether you're dressing up for a castle banquet or gearing up for a museum marathon, Tach Luggage ensures you can navigate York's timeworn streets without losing track of your family or essentials.
What's the educational takeaway for kids in York?
York serves as an interactive history lesson, making it both an educational and entertaining destination for young minds.
8. Belfast
Belfast defies simple labels. It's a city where the echoes of industrial heritage blend seamlessly with natural splendors. The Titanic Belfast is an obligatory stop, offering an in-depth look into the saga of the doomed vessel. Yet, Belfast also serves as a portal to natural marvels like the Giant's Causeway, a UNESCO-recognized spectacle of basalt formations. One standout feature of the Tach Luggage is its secure locking system, allowing you to immerse yourself in Belfast's multifaceted attractions without fretting over your belongings.
What Makes Belfast Intriguing?
Belfast offers a unique blend of industrial history and natural beauty, making it a fascinating destination for families interested in a diverse range of experiences.
9. Cardiff
Don't let Cardiff's modest size fool you; the city is a powerhouse of family-friendly activities. From the grandeur of Cardiff Castle, a historical marvel that dates back to Roman times, to the bustling Cardiff Bay, an entertainment hub with an array of water activities, the city is a kaleidoscope of experiences waiting to be discovered. Tach Luggage's smart compartments are perfect for a city that demands versatility. You can pack everything from swimwear for a day at Cardiff Bay to more formal attire for an evening out. The linking feature of Tach Luggage also means you can move seamlessly from one Cardiff experience to the next, without losing sight of your family or your essentials.
What's There for Kids in Cardiff?
For the young ones, Cardiff offers a range of educational and fun activities. The Techniquest Science Museum provides interactive exhibits that make learning a joy, while Bute Park offers wide-open spaces perfect for a family picnic or a paddleboat ride.
10. Isle of Skye
The Isle of Skye is akin to a page from a storybook, replete with awe-inspiring natural wonders like the Fairy Pools and the Old Man of Storr. To traverse Skye's climate, it's recommended to have Tach Luggage's weather-resistant luggage carrier to ensure your family remains cozy throughout your journey. Plus, the linking feature allows for effortless handling, leaving one hand free to capture Skye's mesmerizing views.

What sets Skye apart?
It's a land where myth and Mother Nature coalesce, offering a fertile ground for the imagination.

As you can see, the United Kingdom is a trove of experiences, each locale offering its own unique blend of history, culture, and natural beauty. Whether you're navigating the bustling streets of London, exploring the mythical landscapes of the Isle of Skye, or diving into the rich history of York, there's something for every American family to discover. And let's not forget, Tach Luggage is your trusty travel companion, designed to make these adventures as seamless as possible. So pack your bags, grab your passports, and get ready for an unforgettable journey across the pond!
---