Travel luggage sets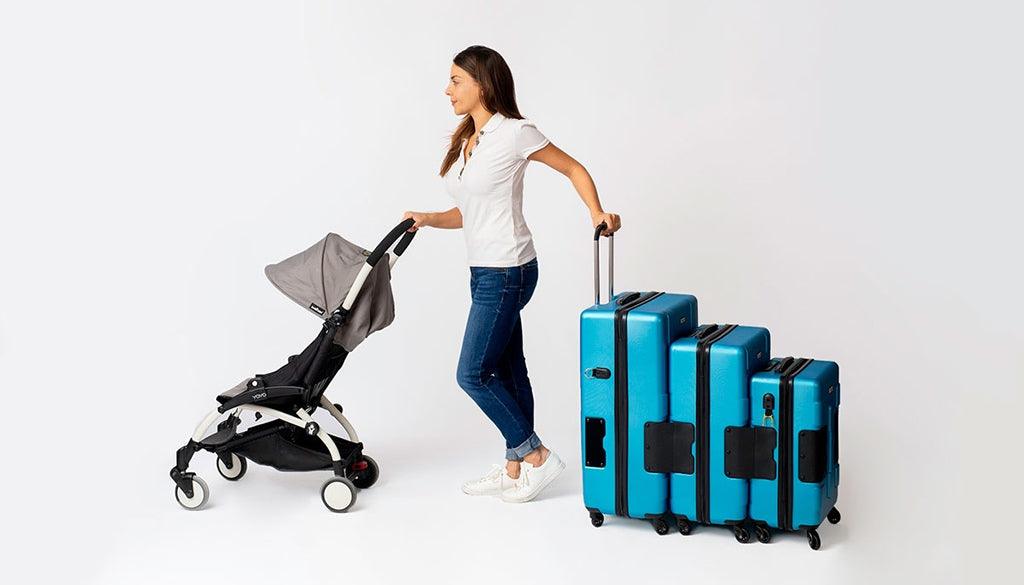 What's essential when choosing a travel luggage set?
If your luggage connects together, your travel experience will be far less stressful. Also check your luggage choice has TSA locks, high-strength wheels and handles, plus USB-charging bank pockets. Your comfort matters the most. Choosing connectable luggage makes moving through busy airports a breeze, especially when traveling with children. This feature is a game-changer, especially for families and groups. No more juggling multiple bags or worrying about keeping track of several pieces; TACH's linking function simplifies it all.

When it comes to travel, the luggage you choose can make a significant difference in your overall experience.
What exactly are travel luggage sets?
Simply put, they're a collection of suitcases and bags designed to meet various travel needs. Investing in a quality set can offer you not only durability but also the convenience of having different sizes and types of luggage for different occasions.
Should I go for hardshell or softshell luggage?
Both have their merits. Hardshell luggage, like what TACH offers, is generally more durable and better at protecting your belongings. Softshell luggage is often lighter and more flexible but may not offer the same level of protection for what's inside. As for wheels, spinner wheels offer 360-degree movement, making navigation a breeze, while roller wheels are generally more durable. TACH's travel luggage sets offer the best of both worlds, combining durability with ease of movement.

But what truly sets TACH Luggage apart is its patented linking function. Imagine effortlessly connecting multiple pieces of luggage, transforming them into a single, easily maneuverable unit.
Why do people choose TACH luggage sets?
Mostly, because they connect together. TACH is the only connectable luggage system on the market. The 3-piece sets are great value for money and store inside each other when you're not using them. In today's world, being eco-conscious is more important than ever. TACH contributes to this cause by being committed to sustainable practices, offering options that are both stylish and eco-friendly. From materials sourced responsibly to manufacturing processes that aim to reduce waste, TACH is making strides in contributing to a greener planet.

When you're in the market for a new luggage set, several factors come into play. What should you consider?
Patented Modular System: TACH's travel luggage sets stand out for their patented modular system, allowing for easy connection of multiple pieces. This is particularly useful for families or groups traveling together.
Size Variability: Depending on the duration of your trip, you'll need different sizes of luggage. TACH offers a range of sizes, from carry-ons to larger suitcases, ensuring you have the right fit for any journey.
Material Quality: Durability is often a top concern when selecting luggage. TACH sets are crafted from premium materials that not only last but also look stylish.
User-Friendly Features: TACH's travel luggage sets come equipped with features like a 5-pocket interior and quick-connecting touch fasteners, making packing and traveling more convenient than ever.
TACH Luggage offers a blend of functionality, durability, and style that sets them apart from the competition. When you choose TACH, you're not just settling for luggage; you're opting for an unbeatable travel experience. Make your next journey a TACH journey. After all, isn't it time you traveled smarter, not harder?
Is packing with TACH's luggage set easy?
Yes, it is. TACH's travel luggage sets come with a unique 5-pocket interior, designed to make your packing more organized and efficient. These pockets are perfect for separating toiletries, undergarments, or any other small items that usually get lost in the mix.

But what about larger items or clothes? That's where packing cubes and dividers come into play. These handy tools can compartmentalize your luggage, making it easier to find what you need when you arrive at your destination. The good news? TACH's travel luggage sets are designed to accommodate these organizers seamlessly, allowing you to pack like a pro.
How secure are TACH's luggage sets?
All TACH cases come with TSA-approved locks. These aren't just any locks; they meet strict international security standards, giving you peace of mind as you traverse through various airports.

Now, let's talk about longevity. A luggage set is an investment, and you want it to last. So, how can you ensure that your TACH luggage set stands the test of time? It's simpler than you might think. Regularly wiping down the exterior and checking the wheels for any debris can go a long way in maintaining your set. TACH's premium materials are designed for durability, but a little care can extend their lifespan even further.
Is it easy to travel with TACH?
Extremely so. TACH understands that not all luggage sets are created equal. Whether you're an adventure junkie or a sports enthusiast, you'll find that TACH's travel luggage sets are designed with you in mind.

But what if you're not into extreme sports or adventures? Even if you're just taking a leisurely vacation, TACH offers features that make your travel more enjoyable. The easy-to-navigate wheels and ergonomic handles are perfect for those long walks from the hotel to scenic spots or tourist attractions.

Let's not overlook one of TACH Luggage's most family-friendly features—the innovative luggage linking system. So, why is this feature a game-changer for families? Imagine navigating through a busy airport terminal with children in tow. The last thing you want to worry about is keeping track of multiple pieces of luggage while ensuring your kids are safe and close by. TACH's patented modular system allows you to effortlessly link multiple luggage pieces together, transforming them into a single, easily manageable unit.

This ingenious feature frees up an extra hand, which can be a lifesaver in many situations. Maybe you need to hold your child's hand as you weave through crowds, or perhaps you have to answer a quick phone call to confirm your rental car reservation. With TACH's linking feature, these tasks become significantly less stressful. It essentially gives you the freedom to multitask.

So, when you factor in this family-friendly function, TACH Luggage sets truly stand out as an all-encompassing travel solution. TACH Luggage sets are not just about carrying your belongings; they're about enhancing your entire travel experience. From specialized travel needs to eco-friendly options, TACH offers a comprehensive solution for the modern traveler. So, why settle for less when you can travel with TACH?
---